Domainmonster's Great Domain-Name Search Feedback
02 Jun 2008
Domainmonster is my favorite domain-name registration website. Aside from the unidentifiable fury object in the logo, the reason I like this website is its user interface for presenting domain-name search results.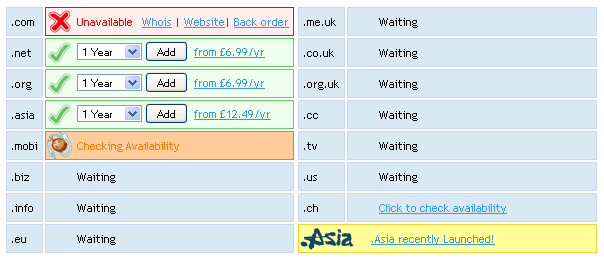 A Domainmonster search begins when the user enters the domain name they want to register. The search-results interface is a two-column table of domain names constructed by appending the top-level domains for sale by Domainmonster to the user's domain-name query.
Searching domain-name databases is often a lengthy process. However, Domainmonster reduces the perceived waiting time by updating each table cell with the results of the corresponding top-level-domain search in real time as the results come in. Each table cell is also color-coded to highlight the availability of the top-level domain:
green cells highlight available domain names;
red cells represent unavailable domain names;
orange cells indicate that Domainmonster is currently checking availability; and
blue cells represent top-level domains that Domainmonster has yet to search.
After color-coding a table cell, Domainmonster adds controls for performing tasks on the domain name appropriate to the results of the search. For example, table cells that represent available domain names display the price of the domain name, a drop-down menu for selecting the number of years to register the domain name, and a button for adding the domain name to the user's shopping cart. Similarly, table cells that represent unavailable domain names provide links for visiting the website at the domain name, for finding out who registered the domain name, and for back-ordering the domain name when it comes up for renewal.
In short, the Domainmonster search-results interface clearly presents the right information at the right time and then asks, "what next?" Perfect.