Text2Link for Firefox Goes Public
18 Aug 2008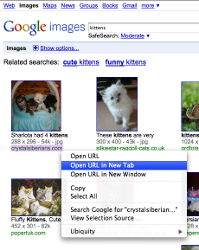 Mozilla has released my Text2Link Firefox extension for public download. Text2Link makes it easy to open web pages and send emails to addresses when their URLs are not marked up as HTML links. Although this is a simple enhancement, it really improves the usability of Firefox, especially when interacting with Google's image search results which don't mark up the websites hosting the images.
Since releasing the first version of Text2Link, I've made the following improvements:
Text2Link now has much better URL recognition, including the ability to recognize the localhost domain and URLs with port numbers;
Text2Link can now also open URLs and send emails to addresses selected in text input boxes; and
Text2Link is now compatible with Firefox 3.
To download and install Text2Link, visit the Mozilla Text2Link page and click on the Add to Firefox button.
For more information about Text2Link, and to see examples of Text2Link at work, visit the Text2Link home page. To find out how Text2Link works, visit the Text2Link implementation page.