The Add-on Stats Dashboard Widget Goes Public
21 Sep 2009
Since developing my Text2Link Firefox+Thunderbird add-on, I regularly check out its popularity on the statistics page produced by Mozilla. Although Text2Link's statistics page contains a lot of useful information, I tend to focus on the total number of downloads and the average number of daily users. Regularly checking a couple of numbers on a web page seemed like an ideal task for a Mac OS X dashboard widget so I set to work.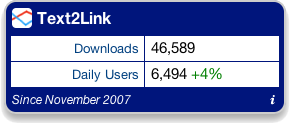 My Add-on Stats widget reads the RSS statistics feed for an add-on and displays the average number of daily users and the number of downloads since the add-on was first published on the Mozilla add-ons website. The image on the left shows the front of the Add-on Stats widget displaying the downloads and daily-user stats for Mozilla add-on number 6003, Text2Link.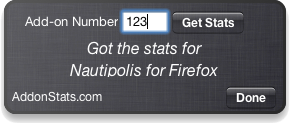 To display the stats for a different add-on, flip the Add-on Stats widget over, enter the new add-on number in the text box and hit the Enter key or click the Get Stats button. For example, the image on the right shows the back of the Add-on Stats widget after changing to add-on number 123, Nautipolis for Firefox.
To download the latest version of my Add-on Stats widget, or just to learn more, please visit my Add-on Stats website.